I was then looking for another MMO, and came across Blade And Soul for a couple of years. Played a bit in the russian private server, but everything was mistranslated or in russian.
Asked about a feed back - Blade And Soul Closed Beta 4
Since you would appreciate Feed back, after the Closed Beta 4, this is what I thing about it.
Introduction :
I've played MMO RPGs for a long time, especially wow. Played the game since its early beta, and never really stopped. Played casually until Cata, then became more attracted into going into High Level progess. Managed to be on the top ladders of PvP since Cata (top 1%) in many classes and I really liked the game. I tried tera, because of the targetting system which was different from WoW. Liked it, but the game was boring, and not pleasant enough. So far, WoW PVP is garbage, and I will probably come back for Legion. But until it comes out, I cannot stand how stupid the game is. It doesn't require any mechanisms anymore. Beside positionning and team playing, every class can be mastered within 2 weeks. (will not go into details)
I was then looking for another MMO, and came across Blade And Soul for a couple of years. Played a bit in the russian private server, but everything was mistranslated or in russian. At least, I knew the gameplay was what I was looking for
I decided to go for KFM, because it was dynamic. Playing mainly Rogue and WW.Monk on WoW, it would be the classes that would suit my playstyle.
This will be about KFM, I did not try to play any other class.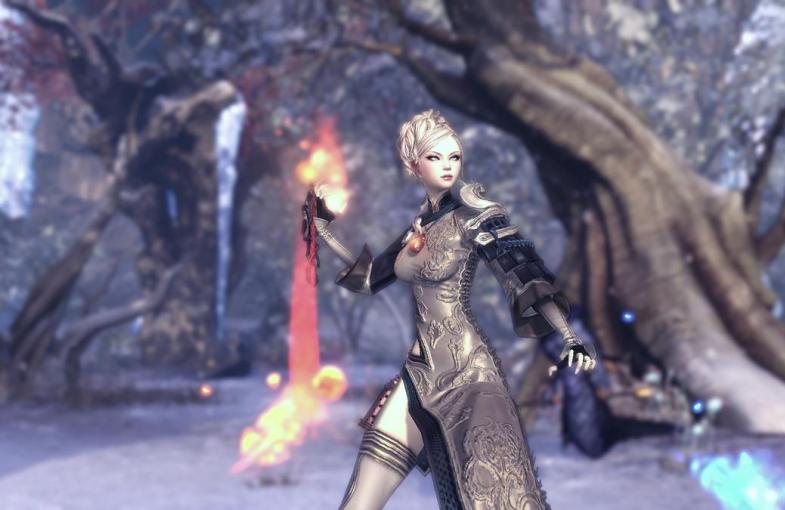 Levelling :
Could only level during the CBT4, ended up being level 41. It was super fast. AND THIS IS A GOOD THING. I levelled up to 15 chars to level 100 in wow. I CANNOT STAND LEVELLING ANYMORE. But there, it was actually nice. I did not follow the story, but I liked the fact you had to dodge and learn patterns of mobs.
So far I liked it.
PRO:
You need to be active, and not spam your rotation while watching a stream on the second screen. I had to be focused to be effective.
The wheel was nice. Killing world bosses was a fun experience. And the fact you could solo them was awesome. Dongeons' difficulty is ok. And the bet system is fine to me.
Many areas different, it's pleaseant.
I was not bored
CONS:
Loots from wheel and from dongeons, to upgrade your weapons are RNG Based. You end up farming like hell if you're unlucky. I know it's a korean game, but for the levelling, I'm affraid it would end up being a nightmare if you get unlucky.
Bet system is nice. When we are all at an average level. I'm affraid that in some months after the release, the new players encounting veterans will not be able to bet, which could lead to make new comers quit earlier.
World bosses are mandatory. It easier for the average player to do it in group. What will happen in a few months, when there be will less people levelling? I hope it will be easier to handle, or find a way.
PvP :
Not level max. Cannot say anything. So far, from Jaesung stream, it's funny. The arena system is what made me chose the game. Even more since I have a huge wow arena background.
PvE :
Not level max. Not a big fan anyway. Will depends on the type of loots.
World:
The game is beautiful. It is a pleasure to play on it. BUT, there is something that makes me sad. It's too guided.
You cannot really cut through mountains, and try to jump on rocks to get behind. This is a huge turn of to me. I was used in wow to be a bit more free. And I feel that, in this world, you're limited to "space which was intended"
see the picture :
I cannot go from one spot to another without following the planned path.
Characters and outfits
Customisation was fine. I don't really ask for more. Maybe more facial decorations, and way to customize it, but it's ok.
But there is huge problem, and I know many people will hate me for saying this: Boobs.
I don't know if there is a censored mode, but I would like one. I hate playing (with) slutty chars
This really is a problem to me. There is nothing with having sexy chars. But keep it classy. No need to make every teenage boy dream of playing his low life street wh*re.
Again, couldn't check for the way to "censor" it, but It really bugs me.
Servers
Many lags during CBT4, but well, it's only a beta. I guess everything will be fixed during release. A way to see the ping would be interesting though.
Forum:
We all agree forums are a way, for people potentially interested in the game, to know more about it. They seem to me to conventionnal. Looks like this is a premade forum, in which you just add a custom theme.
We need something closer to blade & soul. I really like the way it linked your account for your armory on WoW. It looked more "profesionnal" and serious. This forum really looks like some "fan made" forum.
Conclusion:
I guess I forgot a shitload of things, but so far, there is nothing more I can say about the game.
A tl:dr of things I dislike mainly:
Made up open world
RNG based for loots. Make a limit ? After 10 chests for the weapons, you can chose the weapon?