Premium Points will never go away or expire, you will continue to collect them over your account's lifetime and even if your Premium Membership runs out, you will not lose any Premium Points you have accumulated
Blade and Soul Premium Membership & Premium Points
Will I be able to transfer from one region to another?
Characters cannot be transferred between regions, but you are free to create characters on both the North American and European regions if you wish to.

Will the Founder's Pack be available for purchase after launch?
There are currently no plans to offer Founder's Packs after Blade & Soul launches.

Can I gift a Founder's Pack to a friend?
At this time you cannot purchase a Blade & Soul Founder's Pack for another person or friend.

I am not from a European or North American country can I still purchase a Founder's Pack?
Yes, however you will still be required to play on servers in the North American or European regions.

Can I purchase more than 1 Founder's Pack on my account?
No. If you wish to purchase multiple Founder's Packs you would need to purchase them on separate NCSOFT accounts and the benefits would not be transferable.

Will there be an Oceanic Server?
At this time we have no plans for an Oceanic Server.

Where will the servers be located?
Our North American servers are located in Dallas, TX. Our European servers are located in Frankfurt, Germany.
What is Premium Membership?
Premium Membership provides optional quality of life benefits to compliment your experience in the game. Disciple and Master Founder's Packs include Premium Membership for 30 days and 90 days respectively. When that membership expires, you can purchase additional membership time in the in-game store.

What are Premium Points? What benefits do you get from them?
Premium Points are used to increase your Premium Membership Tier. You accumulate Premium Points with every purchase you make in the NCoin Store and Hongmoon Store.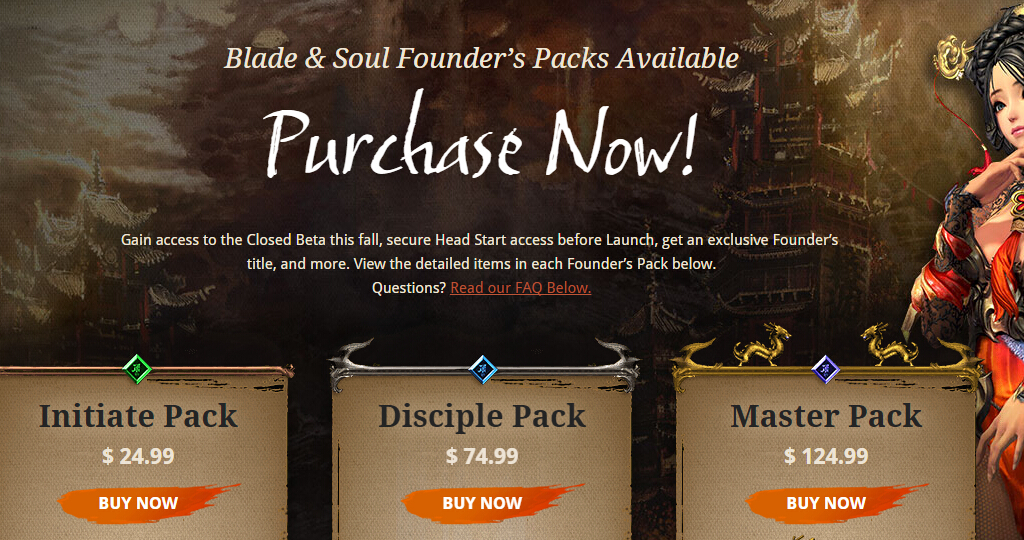 What are the Premium Membership Tiers?
You accumulate Premium Points with every purchase you make in the NCoin Store and Hongmoon Store that count towards raising your Premium Membership Tier. Additional Premium Membership benefits, like bonus quest gold and reduced Windstride cooldown, are unlocked as your Premium Membership Tier rises.

Do Premium Points expire/go away?
No. Premium Points will never go away or expire, you will continue to collect them over your account's lifetime and even if your Premium Membership runs out, you will not lose any Premium Points you have accumulated. However, an active Premium Membership is required to receive the benefits of Premium Points.
Will Free Players play on the same servers as Premium Membership players?
Yes.