Great general and triumph are the only ones that i would and did spend my money on,White Sandraider is basically a drop in game,just diff color and tattoo pattern certainly not worth spending blade & soul gold on.
Regarding outfits in blade and soul shop
Judging by what all i can see in wardrobe under outfit/shop section is such a disappointment,only great general and triumph were decent looking one and judging by what will we get in next shop update ( love,white hot) is just wtf, i don't mean any disrespect but whoever made outfit for this game should man the *cricket* up,if you gonna put so many girly outfits/justin bieber ones in shop you could at least add some manly or cool looking ones.
Like "my angel" outfit,what the hell was going trough the person brain to make that and only make it for male gender..... also 90 or 365 premium outfit reward,sheesh i would pay extra just to not get it.
Too bad some of more better looking ones are in outfit pouch which is just blade and soul gold stealing.
My point was not cause i thought my angel was only for male,it was more directed to why does it even have a male option :D.i guess that's cause some people like to wear women clothes lol. And if they gonna put those kinds of outfits in there,then it would only be fair to put some manly ones as well. People's tastes differ and it would only be fair to satisfy both sides.
Swordsman hat from mushin tower f7- took me exactly 99 runs to get it
PoH 4 man - currently sitting at 47th run and still didn't see general outfit
BSH 4 man -29th run only skin that i ever saw from there was blue blackram officier unifrom that can drop from any mob inside it
NSH 24man - stopped after killing Mysterious Man 40th time and still didn't get outfit from chest so i just stop doing it,ended up getting it from the wheel.
Naryu Lab - Artifacts 10x = 1 box some % to get outfit, atm opened around 26 of them still nothing,it's not easy to farm those even if you solo till 1st boss,that's maybe 1-3 artifacts depending on your luck and low chance of getting treasure goblin to spawn.
Gem transmuting = wasted more then 200 soulstones to get 2-3 chest from which i didn't even get the gem i want.
Outfit pouch from transmutation.
You think i didn't farm? how much of free time do you think i exactly have? maybe you could put drop rate a bit higher? or change outfit pouch system,i mean i need to spend real life money for something that can fail? 1 outfit is lowest 999nc coins and it doesn't even give "fabric" 100% and i need to buy at least 4x outfits,that's 40 euros or os. and even if spent all that it's also not 100% to get outfit pouch hahahah, and even fi i get it it's random outfit hahahahahah.
wonder who made that system.
Understand more then enough,and i still think drop rate should be a bit higher, i literally spent yesterday 14 hours on farming artifacts to try and get the outfit from the box ( naryu lab artifacts) i farmed even after i made yesterdays thread,in the end i opened almost 50 boxes,not even 1 costume,considering the i went duo with my bro in farming it that secures only me looting artifacts +bundle from treasure goblin it makes way faster for farming it then full grp run,just do until 1st boss,you're bound to get 1x bundle +2-3 artifacts every 2 runs or so. (bundle is 30x artifacts)
I think every game would eventually drop epic weapon is at least 1/50 box,i spent 5 years in Aion which had more grind and more stuff to farm then this game and was way more rewarding,they should at least add that you get a costume even if it isn't for my race and make it salvagable so i can use fabrics for something,this way farming any kind of PvE for costume is totally not worth the time.
I don't have problem with guys dressing up as girls, do what you love,i don't mind any of it. as i already said so,next time read better. Just that it would be fair to suit everyone's needs,some like feminine outfits? sure,but then also put more manly ones. Atm shop consist of ugly costumes and feminine ones...okay maybe not all are ugly but most of them don't suit the game for sure.
Great general and triumph are the only ones that i would and did spend my money on,White Sandraider is basically a drop in game,just diff color and tattoo pattern certainly not worth spending blade & soul gold on.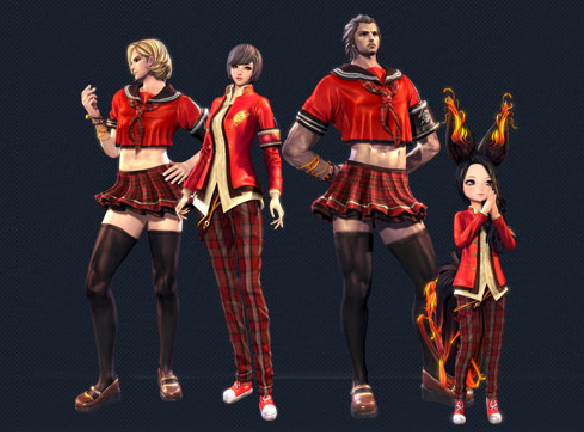 And to answer your question, @ Why does everyone think the angel outfit is JUST for men, there's a female version.
Im guessing most people think it's only for males cause people check outfits in wardrobe(f3) and there when you preview it it can only be previewed on males unlike other outfits. At least that's how i saw it when checking how outfits look like and what will we get in shop in future atm in wardrobe.
and i only saw male character wear them anyways,doesn't really take much to put 2+2 together in that way. Since i don't check store often considering we rarely get anything new and when i saw that outfit there when it came i didn't even bother to check details lols.